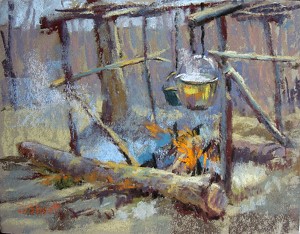 "Making Syrup" 8x10 pastel $150 unframed.
I also have an 8x10 oil that is not finished of some syrup buckets hanging on some trees. I had to stop painting to go purchase my bottle of maple syrup before the store closed!
We spent Saturday with mixed feelings painting at Burton's Maplewood Farms. We went ahead with our plans despite the destruction of a tornado in the nearby area. (Some would say this town of Medora is not nearby, some would.)
There were French and Native American re-enactors representing the mid 1700's and all of them were making maple syrup. As I painted near them I was amazed at how they never seemed to grow tired of talking to the crowds of visitors about the process of making syrup and who they were representing. I took a lot of photos of them for future paintings to depict their colorful red hats against the beautiful grays and browns and violets of the winter woods. So while we did manage to enjoy our day painting outside in open among the metal buckets hanging from the trees and the friendly folks around us, we also had sad feelings for the many people who lost their homes and possessions so recently. and . . . yes, I did take some maple syrup home in a bottle for myself.